Sleep Solutions with DeStress
Sleep and stress management are vital for our health, resilience and performance - but difficult to achieve in our busy lives.
IMPORTANT
Now more than ever quality sleep and stress management are vital in assisting the body's immune system to fight off dangerous diseases and viruses
NeuroSonica's Sleep Solutions mobile app offers effective, evidence-based assistance for these and much more, in one simple, easy to use program.
Sleep Solutions is powered by SmartSound™ - a world first, Class 1 Medical audio technology included in the Australian Register of Therapeutic Goods.
Thanks to its broad-spectrum effects and benefits, SmartSound™ may help assist with various conditions and issues that impact your daily health, wellbeing, resilience and performance.

So now you can stay deeply relaxed, refreshed and well slept at home, work or on the move. And enjoy some amazing audio experiences!
With regular use Sleep Solutions may support:

• Sleep onset, sleep quality and healthy sleeping patterns

• Emotional wellbeing, brain health, memory and resilience

• Stress management, healthy heart function (HRV)

– and more
The Sleep Solutions App includes a
FREE Mini-D-Stress Session
To get it now simply:

Sleep Solutions combines 4 highly effective, multifunctional SmartSound™ sessions. Totalling around 2 hours, these work independently and in combination and may provide a range of benefits, support and assistance including:
Mini-D-Stress (9 mins)
convenient, rapid relaxation and stress relief
ReGen (20 mins)
mood stabilization, help for mild anxiety, memory and tension headaches
D-Stress (30 mins)
deep relaxation, help for stress reduction, emotional regulation and PMT (PMS) relief
Sleep Science (60 mins)
help with sleep onset, sleep patterns, sleep quality, mild pain relief and immune support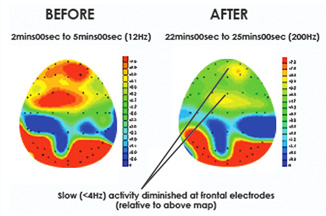 A NeuroSonica EEG Brain Map
SmartSound™ technologies work deep down at the neurological level - where real change takes place.
Using Sleep Solutions is easy - simply choose a session, play it quietly through stereo headphones as instructed, and let SmartSound™ do the rest!
No concentration or other skills are needed. SmartSound™ works automatically by engaging natural neurological, psychological and physiological processes.
In addition to your in-app instructions for use, please get our comprehensive, multi-language User Guide for important information including:
how to get optimal benefits and maximum results


stress and sleep management tips

additional applications like meditation, mindfulness and mental rehearsal

Purchasing Sleep Solutions - Full Version
Once you have downloaded the Sleep Solutions App from the App Store, you will immediately be able to access your Free Mini-D-Stress session.
To purchase the Full Version of Sleep Solutions simply upgrade the App to the Full version by an In-App Subscription Purchase.
A subscription to Sleep Solutions with DeStress gives you full access to all audio sessions in the App for the duration of the subscription period.
Subscription pricing options are:
• MONTHLY subscription is charged @ USD $11.99 per month
(Billed as $11.99 per month)
• QUARTERLY subscription is charged @ USD $10.00 x 3 months
(Billed as USD $29.99 per three month)
• ANNUAL subscription is charged @ USD $8.17 x 12 months
(Billed as USD $97.99 per year)
Stress and Sleep management are two of the most urgent and serious health challenges in the world today.
Our annual pricing offers medical grade assistance for these at less than 27 cents per day !

Important
As a regulated medical product adult supervison for 13-18 year olds, contraindications, and other restrictions apply. You must digitally acknowledge acceptance of these on the App, before you can access the audio. If symptoms persist, seek the advice of a healthcare professional.