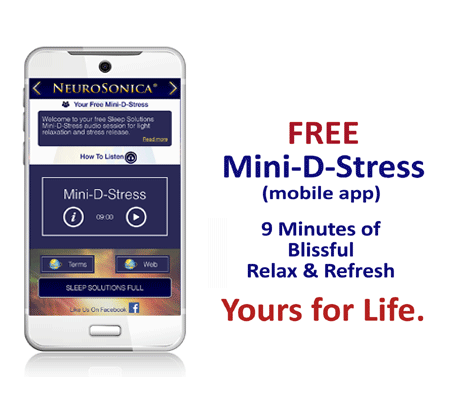 About Your Free Mini-D-Stress
Mini-D-Stress is a complimentary free session on the Sleep Solutions with DeStress mobile app.
Although it is only a short, introductory sample, Mini-D-Stress promotes tangible stress release and relaxation - with flow-on benefits to improve your day.

Mini-D-Stress is multifunctional! By quieting your limbic (emotional) system and more, you can use it for:
on demand help for stress
a 'nano-nap' or 'recharge' to assist workplace or study performance
help with tension headaches

assiting sleep preparation at bedtime

recovery after sport, gym or other exercise
enhanced meditation, mindfulness, hemispheric balance...and more

Mini-D-Stress is powered by SmartSound™ - our world first Medical audio technology included in the Australian Register of Therapeutic Goods (TGA).
But don't just listen once! Like all SmartSound™ audio, the power and effectiveness of Mini-D-Stress compounds significantly with regular use as instructed.

Important: Once you download and install Mini-D-Stress, please also download and read the multi-language User Guide (PDF) to get the most out of your audio! There's a link for this on the App. The Guide can then be translated from our site if needed.

Please note: As a regulated medical product, responsible adult supervision for 13 - 18 year olds and other T&C's apply. You must digitally acknowledge your acceptance of these on the App before you can access the audio.
Get Your Free Mini-D-Stress
on the Sleep Solutions with DeStress App


Get it Now!