Sleep Solutions with DeStress
Sleep and stress management are vital for our health, resilience and performance - but difficult to achieve in our busy lives.
NeuroSonica's Sleep Solutions mobile app offers highly effective assistance for these and much more, in one simple, easy to use program.
Sleep Solutions is powered by SmartSound™ - a world first, Class 1 Medical audio technology included in the Australian Register of Therapeutic Goods.
With Sleep Solutions you'll enjoy rapid, on-demand, evidence-based assistance for sleep, anxiety relief, stress, tension headaches and more. And it sounds amazing!
So now you can stay deeply relaxed, refreshed and well slept at home, work or on the move.
With regular use it may support:
• Sleep onset, sleep quality and healthy sleeping patterns
• Emotional wellbeing, brain health, memory and resilience
• Stress management, healthy heart function (HRV), immunity
– and more
The Sleep Solutions App includes a FREE Mini-D-Stress Session.
Once the App has been downloaded from the Apple App Store or Google PlayStore, this session can be immediately accessed on a permanent basis, without having to upgrade to the full paid version of Sleep Soutions.
What's in Sleep Solutions with De-Stress
Sleep Solutions combines four highly effective, multifunctional SmartSound™ sessions totalling nearly 2 hours.
The four 'scientific soundscapes' of Sleep Solutions work independently and synergistically. Each may provide specific benefits, support and assistance for:
Mini-D-Stress (9 mins)
- Quick relaxation, stress relief
- Rapid quieting of the mind and intrusive thoughts
- Preparation for stressful tasks, work place 'nano-naps' - and more

ReGen (20 mins)
- Debriefing, mood stabilization, mild anxiety
- Creative 'flow states' and memory support
- Relief from tension headaches, 'burn-out' - and more

D-Stress (30 mins)
- Deep physiological and psychological relaxation
- Enhanced emotional regulation and information processing
- Stress reduction, PMT (PMS) relief and sleep preparation - and more

Sleep Science (60 mins)
- Regulating sleep patterns and sleep quality
- Sleep onset for situational insomnia, shift work issues, jet lag etc.
- Mild pain relief, immune support, deep meditative states - and more
Used regularly as instructed, these SmartSound™ sessions may also support general brain health and cognitive function, promote cardiovascular health via improved heart rate variability (HRV), and assist resilience, general health and wellbeing for optimal daily performance.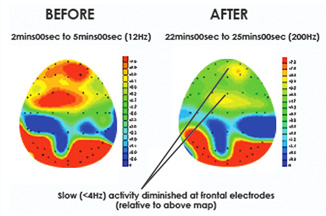 A NeuroSonica EEG Brain Map
SmartSound™ technologies work deep down at the neurological level - where real change takes place.
Using Sleep Solutions is easy - simply choose a session, play it quietly through stereo headphones as instructed, and let SmartSound™ do the rest!
No concentration or other skills are needed. SmartSound™ works automatically by engaging natural neurological, psychological and physiological processes.
In addition to your in-app instructions for use, please get our comprehensive, multi-language User Guide for some very important information.
This includes how to use your audio for optimal benefits, stress and sleep management tips, exciting additional applications like meditation, mindfulness and mental rehearsal - and much more.
Purchasing Sleep Solutions
For online purchases by individuals our annual pricing offers this medical grade assistance for less than 27 cents per day.
For organisations lower bulk purchase prices apply.
In most organisations there will be a mix of members who have Apple vs Android mobile devices, meaning that your organisation will need to purchase and distribute two different versions of the Sleep Solutions app in order to ensure full coverage.
The bulk purchase and delivery procedures will differ depending on whether you are purchasing the iOS or Android versions.
To find out about pricing and how to purchase/distribute for your organisation please contact us using the form below: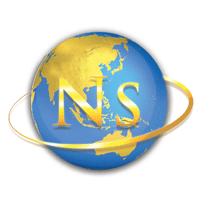 Please use ENGLISH ONLY in this form.
We will reply in English.
Thank You!
Please Note
As a regulated medical product adult supervison for 13-18 year olds, contraindications, and other restrictions apply. All users will need to digitally acknowledge acceptance of these on the App, before being able to access the audio. If symptoms persist, seek the advice of a healthcare professional.